Trusted Extended Car Warranty Protection
Vehicles break. Get stress-free security for unexpected repairs.
Canada's Trusted Extended Car Warranty Solution
Imagine a new or used vehicle warranty that is quick and simple — and costs less! Getting your vehicle fixed for a surprise breakdown can be stressful, frustrating, and costly. However, the right extended car warranty can make all the difference. With Obvi, there is no confusion on who to call for service because we administer your claims for you. Our knowledgeable agents make sure you get the right coverage for your vehicle and driving needs. We are 100% Canadian and cover vehicles in British Columbia, Alberta, Saskatchewan, and Manitoba. Get an online quote now.
Obvi has the best price, the best warranty coverage, and the best customer satisfaction ratings. It was easy to speak with an agent who helped me with my questions along the way.

Allison L. Alberta
With our extended car warranty, you get:

Flexible Warranty Plans
Warranty extension options that fit your driving and coverage needs

Trusted Protection
We are there when you need us, you get an A+ insurance carrier.
Quick Claims and Choice
You choose your shop. Claims are approved in under an hour, paid directly to the shop.

Quality and Value
Low or no deductible. Get OEM repairs across North America. Plus, transfer if you sell.
Warranty Coverage Plans
Choose from our three warranty plans: Elite – Premium – Powertrain Plus
Elite Plan
Vehicles up to 10 years old that have less than 100,000 KM are eligible for our full comprehensive Elite warranty coverage. Our Elite extended warranty provides ultimate protection for components and labour to repair breakdowns. Our plan has only a few excluded components such as wearable parts (like tires, windshields, or brake pads). If it's not excluded, it's covered!
Premium Plan
Vehicles up to 10 years old that have less than 160,000 KM are eligible for our Premium warranty coverage. This warranty policy has an extensive list of named components that are covered. Including your engine, transmission, high tech, steering, electrical, heating and cooling, and much more.
Powertrain Plus
Vehicles up to 10 years old that have between 80,000 and 200,000 KM are eligible for our Powertrain Plus warranty coverage. It includes coverage for critical vehicle components that can be costly to repair. Including engine, transmission, turbo/supercharger, transfer case, drive axle, and more.
With Obvi, you get an insurance policy, so your investment is 100% secure. All warranties come with roadside assistance, rental car, and travel coverage. Check out a copy of our warranty policy that we include when getting a quote to see the full terms and conditions. Get a quote now for the best-extended car warranty in Canada.
Save Money. Get Value.
Average customer savings of over $2,075.67 on Obvi extended auto warranties
Cutting out the middleman from our extended car warranty plans allows us to provide the best service possible while saving you your hard-earned dollars. Carry this value forward and increase your resale value when you sell or trade your vehicle, even at the dealership. A warranty with us means you will be taken care of when the time comes for a claim. We are accountable to you directly from the beginning. Get reliability, not a large unexpected repair bill.
Typical repair costs: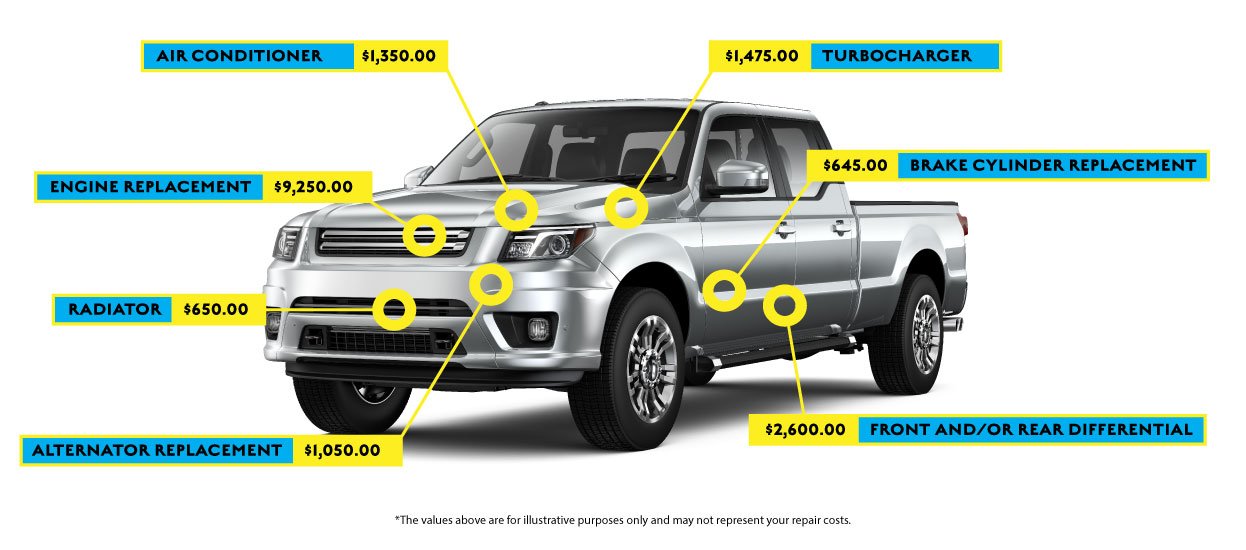 With OEM parts and dealer-approved repairs, it doesn't take long to realize the value of your Obvi warranty. We make things as easy as possible for you, saving you time, money, and a lot of stress. Get your new vehicle extended warranty coverage today – start by getting a free online quote.
Frequently Asked Questions
What does the extended car warranty cover?
We offer comprehensive warranty coverage for your vehicle. It is comparable to the manufacturer's warranty and other premium warranties. We also have powertrain warranty coverage which covers the vehicle's critical components like your engine and transmission. We will email a copy of our extended car warranty policy details to you when getting your quote. Please get in touch with us if you need more information via our chat.
What vehicles are eligible for a warranty?
We offer extended car warranties for all major new and used vehicle brands. Vehicles that are up to 10 model years old and have less than 200,000 KM are eligible. Try our quick online quote now to find out if you qualify.
Is there a maintenance schedule requirement?
Following your manufacturer's recommended service guidelines is all you need to do. Regular oil changes and maintenance should keep your vehicle running in good condition.
How much is the deductible?
Our warranty policies have $0 and $100 deductible options available. Please refer to the terms and conditions of our policies for more information.
Does my manufacturer's comprehensive warranty need to be valid to get coverage?
Vehicles with some remaining original basic/ comprehensive manufacturer's warranty can buy without an inspection. For most vehicles, this is 3 years/60,000 km or 4 years/80,000 km. You can contact a local dealership to confirm if it has a remaining warranty or not. We can still cover you if it doesn't have any warranty, but you will need an inspection from us.
Where can I get my car repaired?
You can take your car to any licensed repair facility in Canada or the continental United States. This includes dealerships and independent repair facilities. We would also be happy to recommend a shop if you are unsure where to go.
How do I make a claim?
Our claims service is quick and straightforward. We want your claim completed as soon as possible to get you on your way. You can contact us at claims@obvi.ca to start a claim or, visit our make a claim page.
Have your repair facility contact us before proceeding with any repairs and diagnostics.
How long do claim approvals take?
We approve most claims in under an hour. The time to resolve your warranty claim will depend on the extent of the claim.
Are Obvi warranties insurance policies? How does that protect me?
Yes. Our policies are insurance policies. Financial stability and good claims reserves are very important. With an A+ rated insurance policy, you know your policy is safe for the entire term and beyond.
What if I need to cancel my policy?
All of our extended car warranty policies contain cancellation provisions. You can get a prorated refund at any time if you need to cancel. To cancel your policy please contact us, and we will help you determine the next steps.
Can I get a payment plan?
Yes. You can choose up to a 24-month plan depending on the length of the policy. Pay by credit card or direct debit from your account.
Will my mechanic or dealership accept Obvi's warranties?
Yes. You can take your vehicle to any licensed repair shop in Canada or the continental United States. We will pay the shop directly for you via credit card. No need for shop pre-approval or to set up accounts. Have your repair facility contact us before proceeding with any repairs and diagnostics.
Share this page
Download our FREE Warranty Guide