Which Cars Have The Best Car Warranty?
When researching your next new or used vehicle, it's a good idea to consider which ones have the best car warranty.
All new cars, trucks and SUVs come with comprehensive and powertrain warranties. Most comprehensive manufacturer warranties are 3 years/60,000 km or 4 years/80,000 km, with powertrain coverage generally being longer. What's the difference between comprehensive and powertrain?
| | |
| --- | --- |
| Comprehensive Warranty | Powertrain Warranty |
| · Covers defects on most working parts of the vehicle including the suspension, electrical, safety systems, and hi-tech systems. | · The powertrain warranty covers the vehicle parts that provide power and make it move. This is the engine, transmission and drivetrain. |
Other types of warranty coverage that the manufacturer includes are:
Hybrid/electrical powertrain coverage. Most automakers provide around 8 years/160,000 km.
Roadside assistance is also included with new vehicles. Coverage ranges anywhere from 3 to 6 years or 60,000 km to unlimited km.
Some manufacturers provide varying terms of coverage for certain components such as emissions, radio systems, batteries and other wearable parts.
Manufacturers include varying terms of rust-perforation warranty on new vehicles.
It's important to read the fine print of any warranty and understand what is and isn't covered.
Which vehicles come with the best warranty in Canada?
Mitsubishi offers the best length of vehicle warranty, with Kia and Hyundai close behind. Mitsubishi covers 5 years/100,000 km for the comprehensive and the powertrain warranty is 10 years/160,000 km. Below is a list of the comprehensive and powertrain warranties each automaker provides for comparison.
Beware though that length isn't always an indication of the best vehicle warranty in Canada. Do some research online about how they handle claims and if things are as straightforward as they appear. Some manufacturers will try hard to avoid paying for warranty claims.
Regardless of which vehicle you consider, you may notice that most of the manufacturer warranties have something in common. The coverage generally expires before a major breakdown is likely to happen. Each manufacturer has determined when they can offer protection without having to charge extra for it. Once the time or distance allowed has expired, you need an extended warranty for further coverage.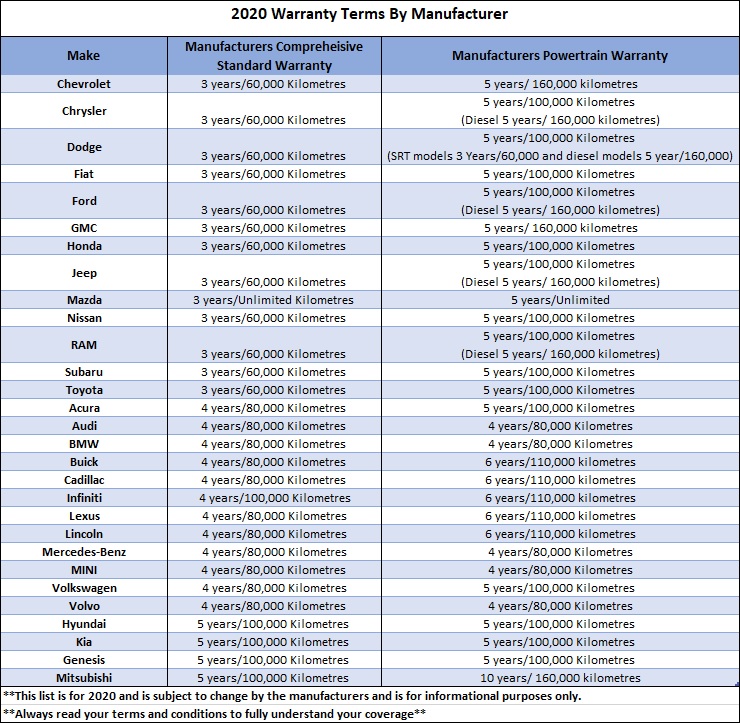 What's the best-extended car warranty?
Here are some important things to think about when considering what the best-extended car warranty is. Check out our previous blog posts for a deeper dive, but automotive retailers are in a position to offer:
A third-party warranty, most likely in the form of an insurance policy
Extended coverage from the manufacturer, most likely in a "service contract"
The dealership is selling a policy or contract for which they have no overview or administrative role in the event of a claim. The sales agent has a laundry list of tactics and years of sales training to earn a commission. Car buyers should look online for alternatives and ask a lot of questions. Don't feel pressured to buy the extended warranty at the time you're buying your new vehicle. You usually have 30 days or more to make a decision.
Here are some important things to consider:
Transfer/cancellation options — Your needs are always changing. Does your warranty support that?
Time and distance — Don't buy more coverage than you need. Make sure you get an option that fits your driving style. Most Canadians keep a car for 6 years and drive 15,000km or less annually.
Offer of a "no claim credit"— You pay a premium for this and getting the money back is rarely straightforward. It might require the purchase of or credit towards a new vehicle from the same dealer. Will you hold off making a $550 claim hoping to get $2000 back? What if you have another claim later?
Fine print — You need to be concerned about what isn't covered. Fancy brochures won't be referenced at claim time. Get a copy of the policy and check it over.
Price — Shop around. Rarely do you get a reasonable price for extending a warranty at a dealership.
Find out more about Obvi and our extended warranty policies, and get a free quote now.